In the blink of an eye, the 90´s is about to complete 30 years of age.
An entire generation of children, adolescents and young adults who spent hours and hours playing Sonic in front of the TV tube and listening to their favorite CDs in a discman, between a "Beakman´s World" rerun and one episode of "Wonder Years".
And if there is a uniform that can symbolize the entire season was a certain black sweatshirt. Yes, that. Cast the first stone who didn´t wear, or not wanted to have, a Gap sweatshirt. However, what few people know is that the clothing manufacturer has gone through a drastic reformulation, developed own brands, won new audiences and today operates more than 3500 stores in 46 countries, with more than 135,000 employees and a turnover that exceeds 15 billion dollars annually.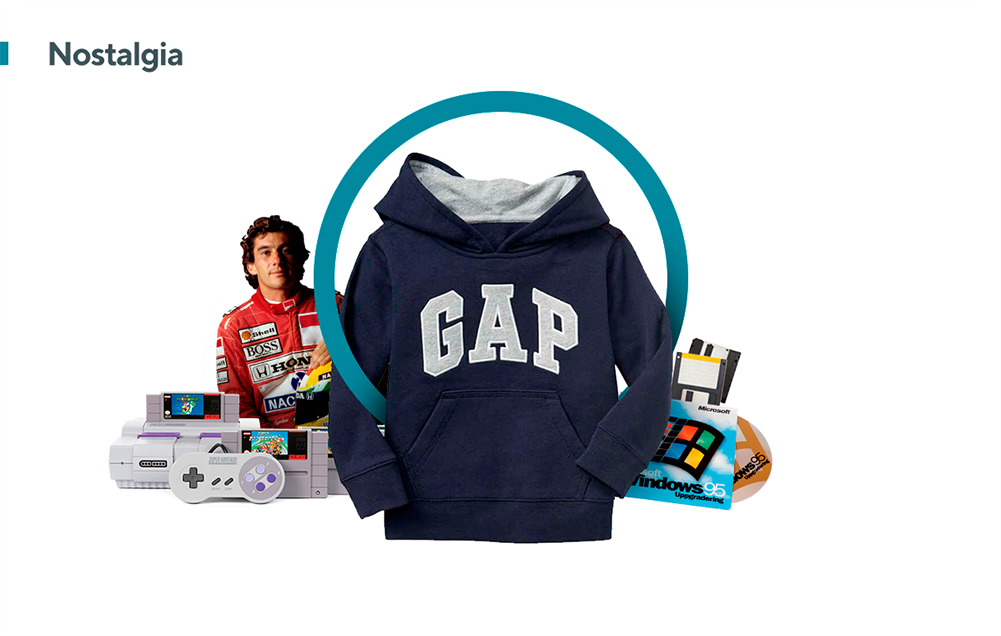 Part of this reference image that the GAP sweatshirt bore is not by chance, since there was a certain status wearing one of these. It meant that you, or your parents or someone had access to an imported product, something not so easy to find outside the United States.
And it suggests something very important in the analysis of any retail clothing company: the power of a brand! Yes, the brand is important because it is a driving force for what is fundamental in most businesses, but even stronger in a retail company, which are sales. Retail clothing companies operate in a widely competitive market, with several shops and brands that seek to conquer you, and this tends to depress margins for low. In a market with strong competition and low margins on where each sale to a retail store it earns a small amount, soon to make this amount be higher and generate effective return on capital, the easiest way is to sell considerable, win on their stock spin.
So, we have 3 characteristics of the retail clothing sector:
The power of the brand;
Low margins by strong competition;
The flow, the sale as fundamental for the return.
Is GAP like that?
In an old GAP commercial, they used the song "I just can't get enough" of the English band Depeche Mode. The song said:
I go out of my head I just can't get enough
In fact, they wanted you not to feel sated and happy having only a GAP sweatshirt, the idea was to you sell the baseball cap, the jeans, the denim jacket, exactly due to this need to sell more and more.
Responding to the question above, about GAP be like that or not: Yes, GAP has a really tight net margin, but in line with its segment. Currently, for every $100 in sales, something like $5.35 become profits (5.35% margin). Below the graph of historical GAP net margins:
Historical GAP net margins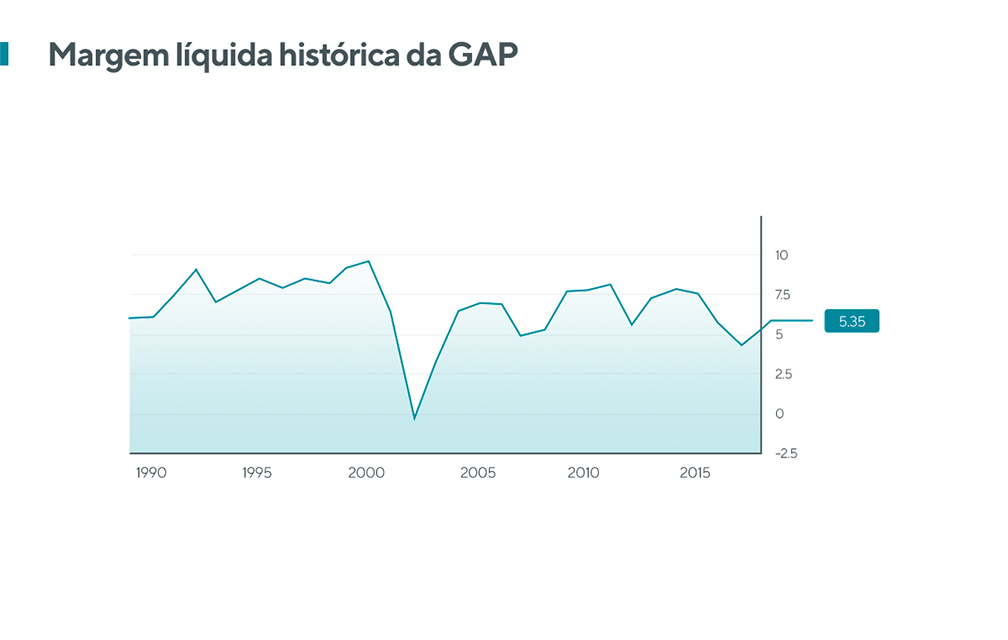 In the "golden" time, the company had net margin (profit) of 10%, but today there is another situation and therefore it is to understand: Who is GAP today?
GAP nowadays
Today the brand GAP is not the most important brand for more curious than it might seem. The table below shows that in terms of sales, Old Navy is the most representative in terms of sales with approximately 46%, followed by the stores GAP, Banana Republic, and Athleta is a women's gymnastics clothing brand.
Net income and sales per company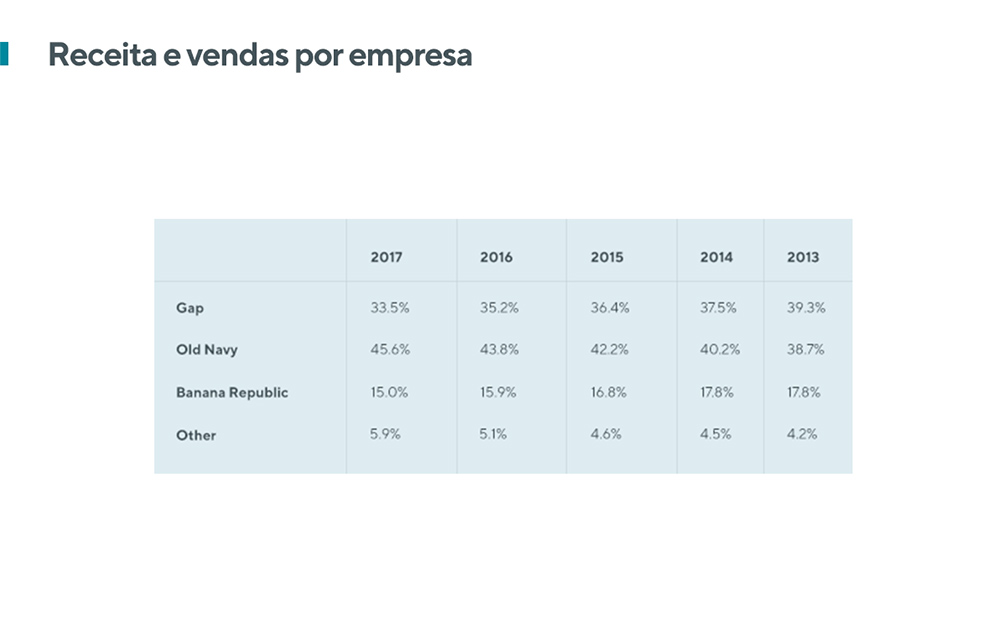 Old Navy is a department store for the family, and emerged as a cheaper version of GAP still in the decade of 90, in which they offer fashion for men, women and children. In general, they have cheaper products than GAP and perhaps that is why they are gaining space in recent years.
In spite of all tenderness, nostalgia seems not to be sufficient to ensure that GAP sales will increase. The red line aligned to the right shows that GAP (GAP) is showing a drop in sales, although the decline rate has fallen in recent years.
GAP´s Net Income and Sales
In contrast, Old Navy is selling well, showing growth and also growth acceleration in recent years.
Old Navy´s net income and sales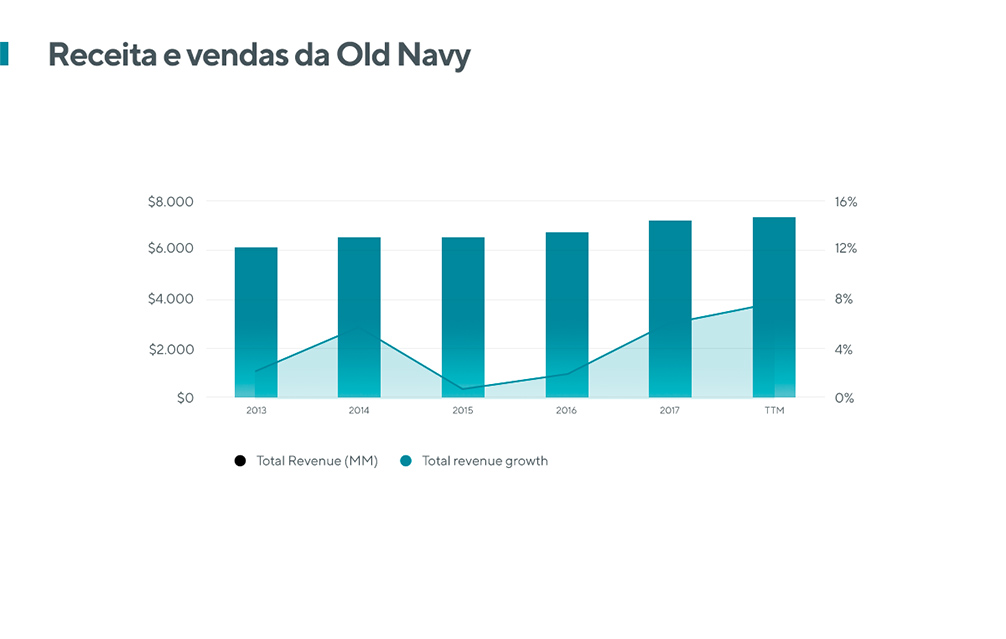 Even so, GAP as a company has been able to create defense mechanisms against this apparent lag of sales of its main brand. Chart below shows the evolution of their revenues since 2008 showing periods of growth (green bars below). That is, their growth has been rather erratic, but there has been some growth.
GAP´s net income evolution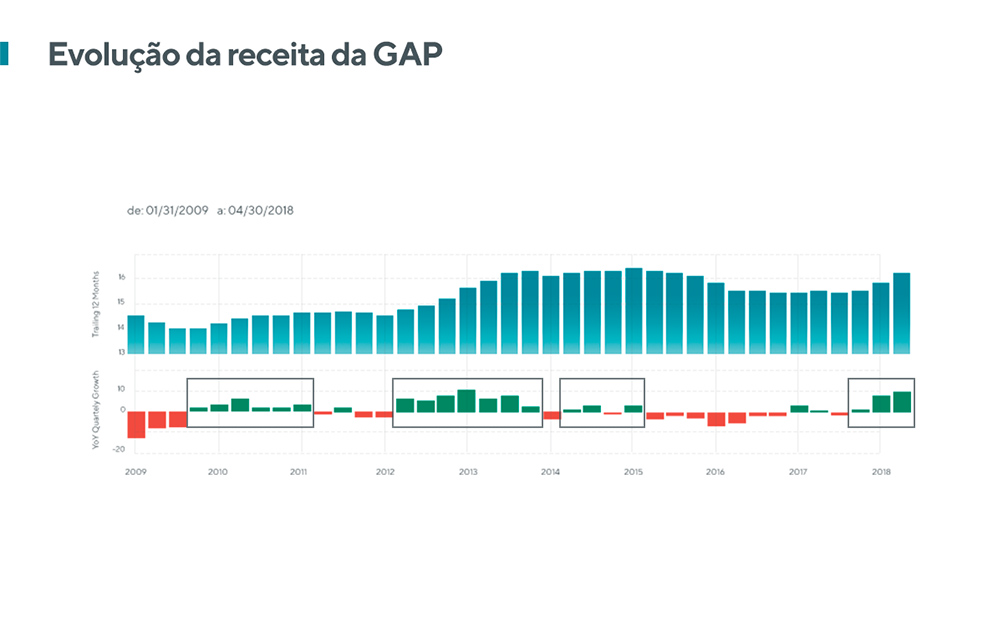 But one fact deserves to be highlighted: this was a shorter growth compared to their peers or comparable companies, i.e., it grew less than the industry average which is not something positive.
Increasing taxes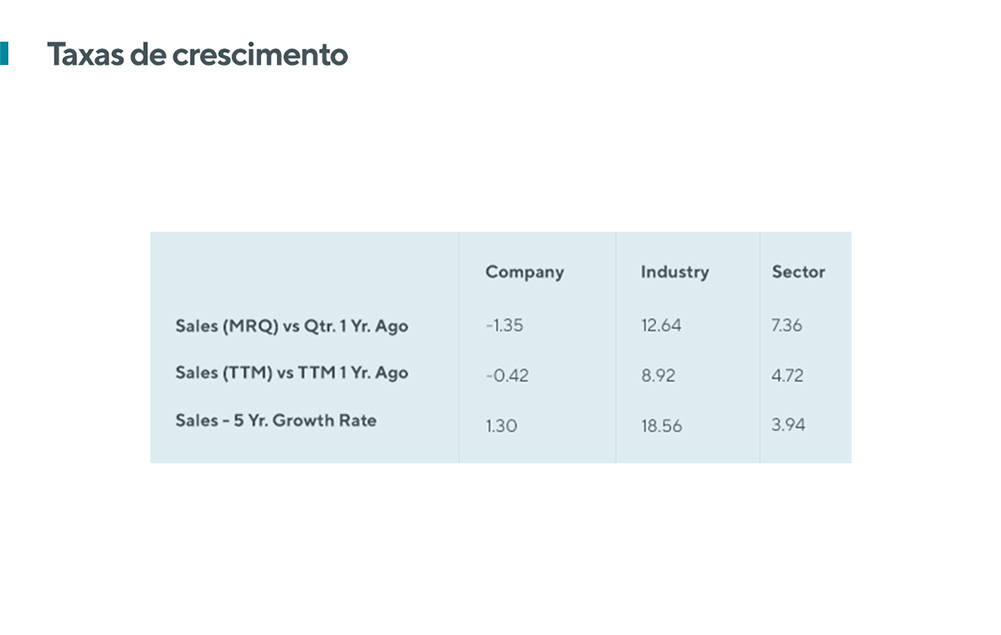 In general, it seems that the "guilty" was the high number of stores in shopping malls and the reduction of flow observed in recent years. Added to this is obviously mistaken collections, one of its brands Banana Republic that there has shifted.
And this eventually affect the profits of GAP which has fluctuated a lot over the last few years, with their profitability margins showing little stability. Competition, advent of e-commerce, changes in consumption patterns, wrong collections, many can be the reasons, but you can see that their margins have fluctuated quite as shown in the graphs below the evolution of profit and return on equity.
Evolution of profit and return on equity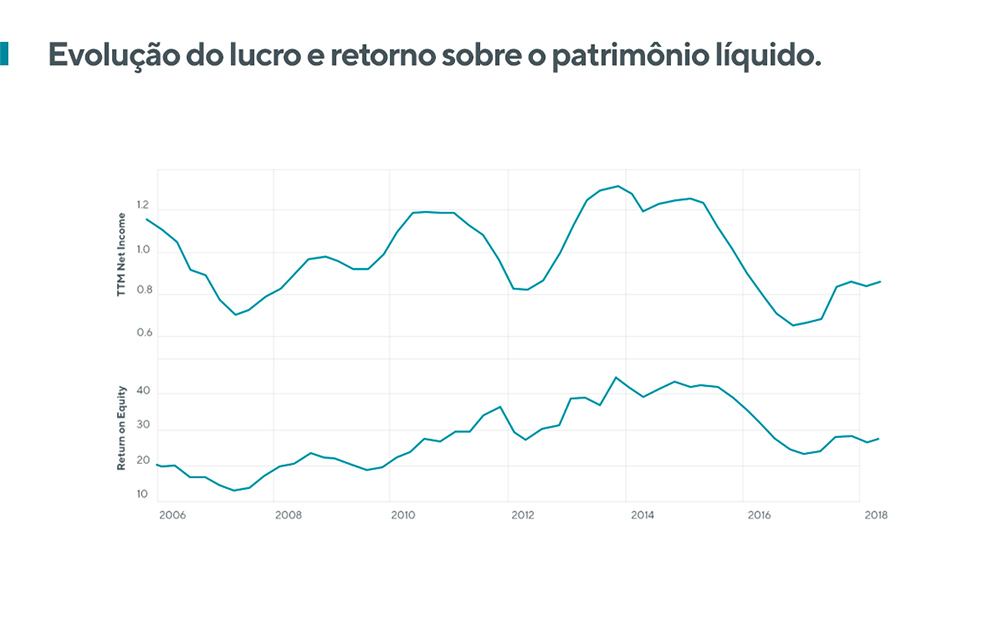 And its stocks went out of fashion?
Not by chance, their stocks also felt this oscillation in the company profitability. The graph below shows that in the last 5 years, the company shares presented a drop of 25% compared to a high of 65% of the S&P (black line) and 25% of the XRT (S&P Retail ETF - red line).
Profit oscillation for the company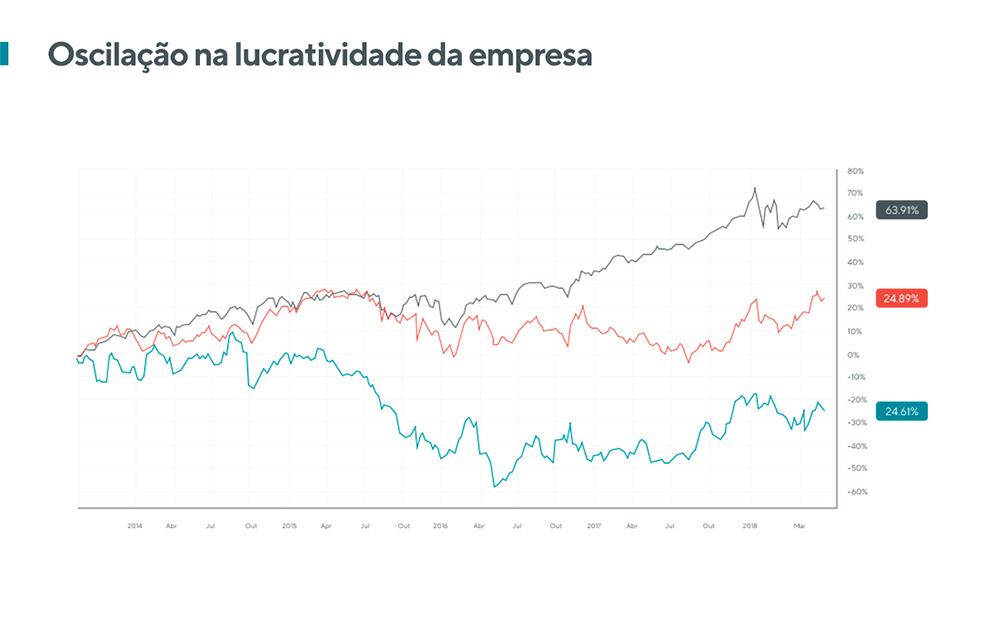 This contrasts with the stock performance when the company was successful sales case and object of desire of young people in the 90´s! Below the graph of 25 years of stocks in comparison to the index. Who bought the shares in 93 and loads until today accumulates a gain of 530% well in line with the index.
25-year GAP stock compared to the Index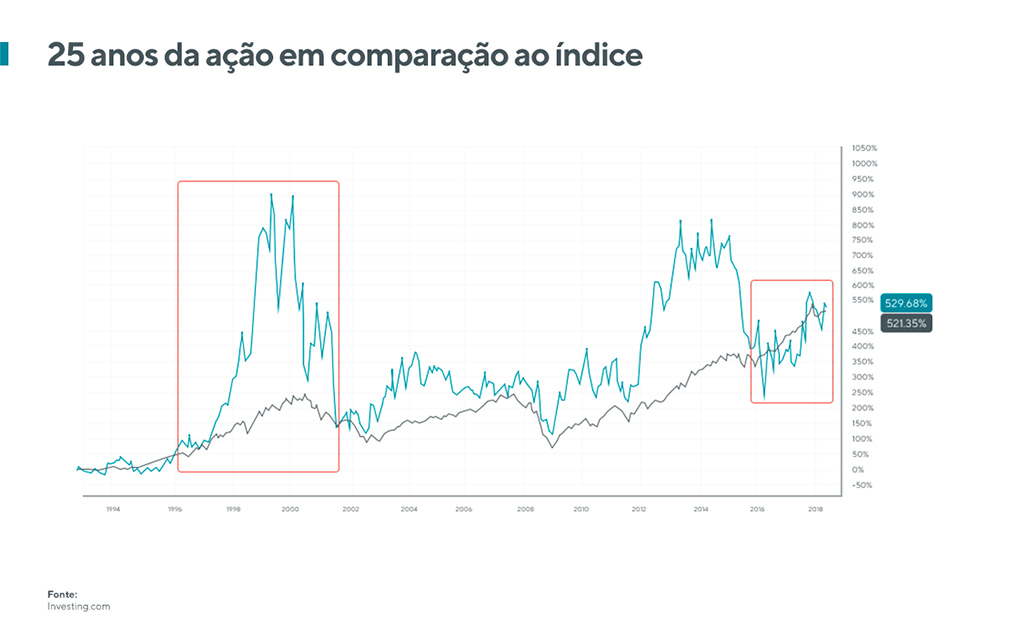 More positive overview on paper…
Despite the poor performance of the stock, GAP has not been stopped and it even brings optimism to some market analysts. Below some positive points of perspectives for the company´s stocks:
Online: Facing a new and disruptive scenario, GAP engaged efforts in the online marketplace and today 20% of its sales comes from the online channel. Below the division of revenue per channel; see the evolution of e-commerce.
Division of revenue per channel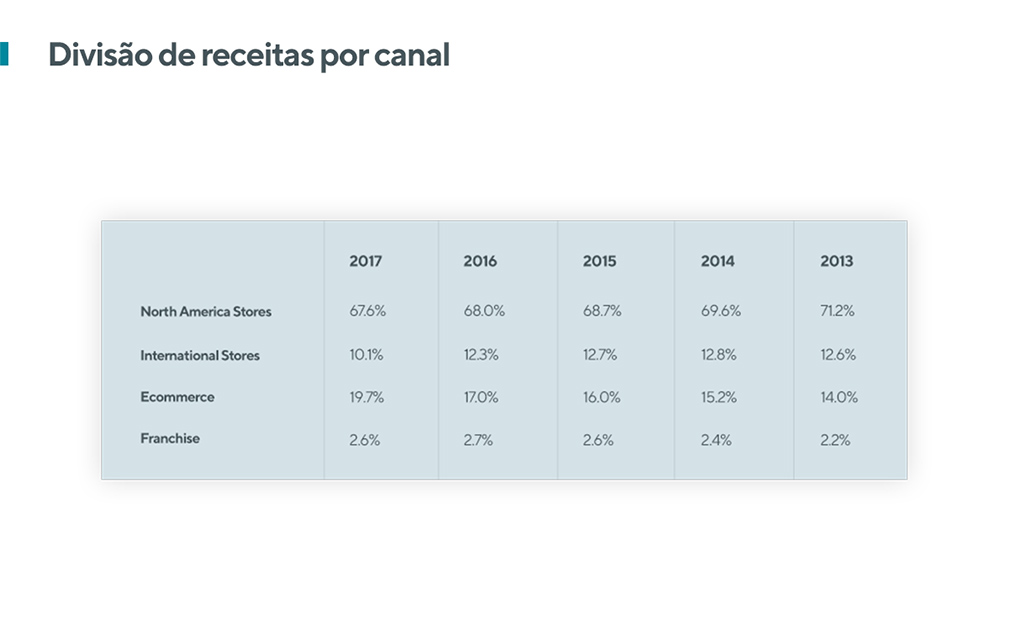 Restructuring: The 90´s fashion icon has tried to reinvent itself. Old Navy gained relevance and GAP plans the opening of 60 new stores. In addition, they plan to close 200 stores of GAP and Banana Republic until 2020, which are not performing, focusing on those that actually generate return.

Dividends: Even so the company has increased its payment of dividends in recent years. With a high level of return and comfortable cash position, the company began to pay higher dividends and make shares repurchases which increased the return to shareholders. In the last five years, the growth rate of dividends was 15% with the payout reaching more than 40% of their profits. Chart below shows the evolution of the payment of dividends per share over the years, the Dividend yield, the redemption of shares and its Payout (how much of the profit it has been paid)
Payment of dividends per share over the years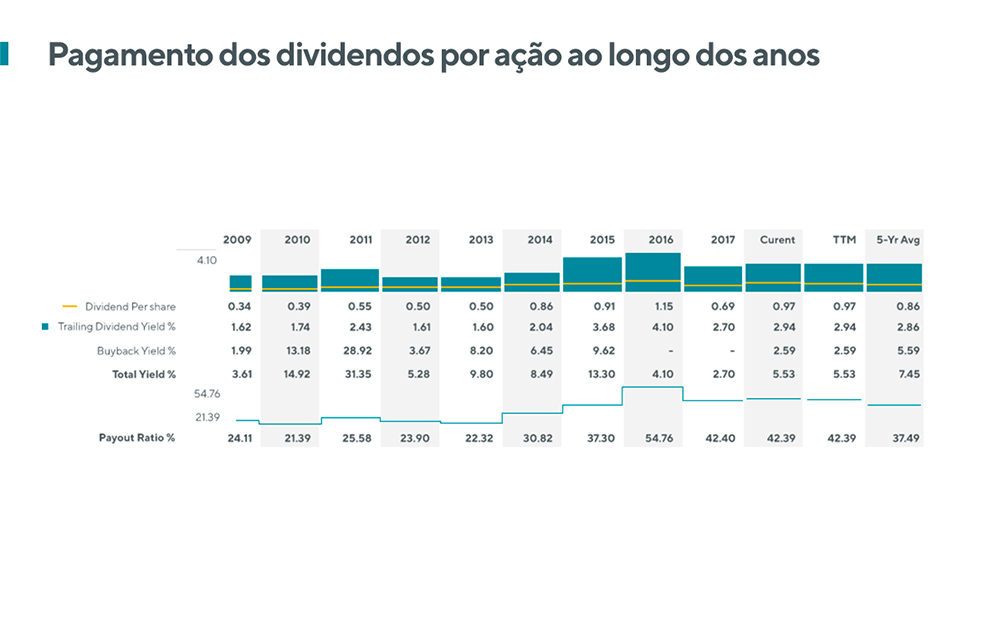 Relative Valuation. If in one hand a more insightful investor can question its weak growth in recent years, its high dividends, its strong cash position and smaller multiples (relative valuation) than the industry or comparable companies, it can attract other investors…the table below compares the multiple Price/Profit, Price/Sales, price/value of equity and price/Cash Flow. Excepts the multiple price/value of equity, in the others their stocks are more expensive than the average.
Comparison between the multiples Price/Profit, Price/Sales, price/value of equity and price/Cash Flow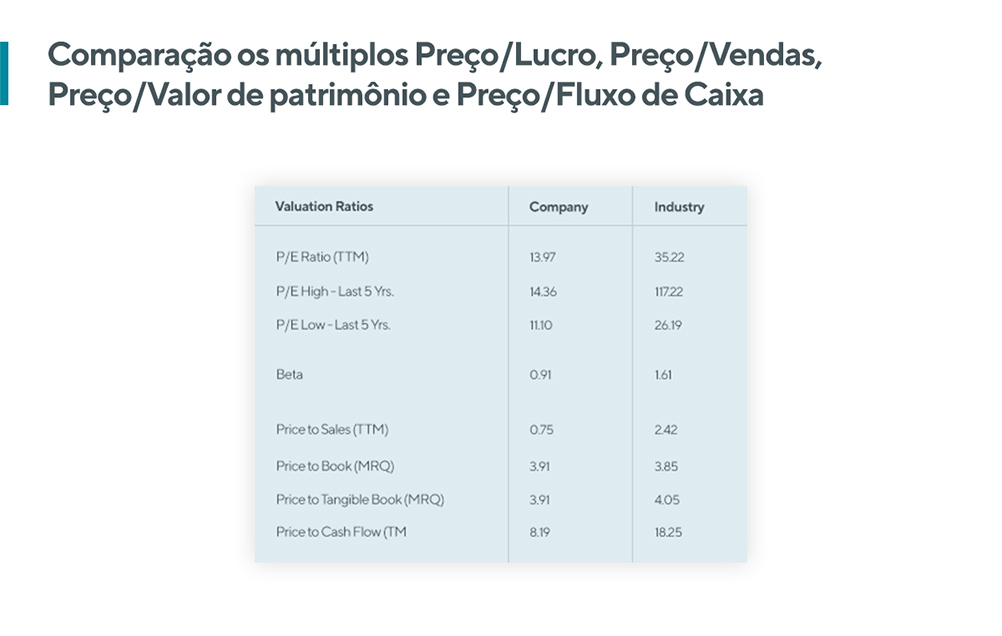 Finally, the 90´s have passed and for the nostalgic shareholders of this giant what matters is its ability to reinvent itself and return to fashion, hoping that the current measures take effect and its stocks go back to past returns.